Stop it.
Hey, if you're following me on this account, you're doing it wrong. Here's my new account. I can't delete this one for various reasons. Thanks!
bogleech asked: I don't know if anyone has asked this and they probably have but does Dinodrac transform into a bat, perhaps out of an eye for traditionalism, or does he transform into a bloodsucking pterosaur?
Dino Drac is live.
For those following me on obsolete accounts: Dino Drac is live!
Psst.
You shouldn't be following me on this account anymore. Dinosaur Dracula opens June 1st!
Come with me.
I'm moving. Come with me. New site, which will be under wraps until the big launch a while later: http://dinosaurdracula.com New Tumblr, which you should follow, because I'm eventually going to leave this one to die: http://dinosaurdracula.tumblr.com See you there, I hope!
Designers/Coders?
This is a little random, but I'm looking for a designer/coder to help me build "something." It's a big project. The person should be familiar with Wordpress especially. Unfortunately. at this time I'm really looking for someone who can both design AND code. (And by code, I mean take what they build and transform it into a functioning, Wordpress-powered blog.) ...
2 tags
6 tags
The Godzilla Koosh Ball.
It took me over a decade, but I finally saw Godzilla. The Matthew Broderick 1998 version, I mean. Wow. Terrible. I try to enjoy what everyone else trashes, because it's the easiest way to be a bitchin' nonconformist. But I could not do it with this movie. I've seen a thousand "giant monster" films, and even the worst of them had some charm. Here? No. Everything about it was bad. By the time...
Boring.
So I never finished Candymania. Shocking, we can all agree. I just couldn't come up with anything poignant about that Zagnut bar, other than the obvious Beetlejuice reference. I've already made Zagnut/Beetlejuice references so many times. Then, in a fit of trying to find motivation through clean sheets, I started messing around with my Tumblr theme. Ended up buying one of the premium versions,...
6 tags
Candymania: Part III!
More candy. I'm already tired of this, but a deal's a deal. Candy Pipe: And there she is. The one and only. For a while, a cherry candy pipe was my favorite candy on the planet. Don't write it off as mere "red licorice," because the flavor was so much richer, spicier and awesomenier. Best of all, you had to eat it slow, because no kid could get a candy pipe and not spend an hour pretending it was...
6 tags
Candymania: Part II!
I believe we must continue candy-ing. Giant Gobstopper: Yeah, disregard the pack of Beemans gum. It's only there for scale purposes. I do NOT wish to write about Beemans gum. Not now, not ever. You've likely had a giant Gobstopper/Jawbreaker before. They're the candies nobody finishes. It's impossible. Either you get full, or you just throw in the towel from plain mouth fatigue. Then you sit the...
5 tags
Candymania: Part II!
Let's start eating candy. First finds: UFOs: Okay, these have several names, and you probably know them as something else. In fact, I'm not even sure that anyone outside me calls them "UFOs." Basically, they're bland saucers with tiny handfuls of candy sprinkles inside. As a once-practicing Catholic, what always struck most me about UFOs is how similar in taste and texture they are to the Body of...
4 tags
Candymania!
So, as at least one of you guessed, that random hot sauce store was in Peddler's Village, in Pennsylvania. I don't know how to describe Peddler's Village, exactly. It's like an outdoor mall, but with enough rustic charm to make you feel like a not-asshole for spending the night there. But you know, for a while, I did feel like an asshole. After eighteen stores full of homemade soap and Moroccan...
9 tags
Hot Sauce.
This past weekend, I visited a quaint little shop that – at least for storytelling purposes – sold nothing but hot sauce. Lots and lots of hot sauce. I like hot sauce. Really do. Tabasco is my table salt. But until I stepped foot in this dusty shop, I never truly understood how utterly capable hot sauce is of changing a person's life. That's the stupid way of saying, "I think I'm going to get...
7 tags
Happy Valentine's Day.
I've been scarce as fuck lately, I know. Been busy with work, but barring a few script projects over the next few weeks, I'm about to get freed up. This is good, as I really miss taking pictures of nonsense and writing about it. EPIX's "Big Bloody Valentine" marathon is on tonight, and that promo we built is all over it. (A few versions of it, actually, plus bumpers.) I almost never get the chance...
3 tags
9 tags
EPIX Big Bloody Valentine Promo.
We just completed this promo for EPIX's 2012 "Big Bloody Valentine" marathon. It's romantic and gross.
valleygirlonceremoved asked: HAVE YOU SEEN THE TRAILER FOR JOURNEY 2: THE MYSTERIOUS ISLAND??? I'm pretty sure the mystery is how anybody forgot that it was named Skull Island. (I almost said Skull Fucking Island for emphasis but that would have sounded like a whole different thing)
6 tags
Eye'm Famous.
I don't know if I should be honored or offended. A reader named Stina, from California I think, was out shopping when she spotted a familiar face on the signage for a "wacky contact lenses" stand. That face was mine. Yes, the makers of "Krazy Lenses" saw fit to use yours truly as part of their promotional spread. They took the image from this article, published as part of X-E's 2004...
10 tags
"Creatures of the World" Jungle Playset.
I am now the proud owner of the "Creatures of the World" Jungle Playset, starring 21 animals of all shapes and sizes. Not a bad thing to be, especially for the low price of 2.99. After assembling my figures into the rough form of a backyard bash, I grew awestruck at the quiet but striking pandemonium that permeated every facet of my condensed animal kingdom. There was law and order...
8 tags
Nobody dies.
I hate it when I watch something, fall in love with it, look up more info, and find out that the people involved with its creation and/or execution are DEAD DEAD DEAD. This happens to me a lot. I guess it isn't surprising since I tend to watch movies and TV shows that are nearly as old as I am. Accepting the logical inevitability doesn't mean I have to like it. I prefer to believe that...
5 tags
wwwanderlust asked: Any progress with the office?
3 tags
1 tag
7 tags
Nightmares.
Wrestling is on TV tonight, and that just reminded me… For the past two nights, I've had horrible nightmares about being chased. Thing is, it's not really me being chased. I'm seeing the dreams through the eyes of others. In the first dream, I am the good-or-evil twin of WWE superstar, Kane. The real Kane is chasing me. This is Kane: In the dream, I look like that and am being chased by...
3 tags
3 tags
10 tags
8 tags
Fab Funko Freddy Friday.
My nephew gave me this for Christmas. I never got a chance to thank him, as I spent our traditional midnight gift swap blitzed to the point of unconsciousness. For all I know, he's still offended. The important thing is, I'm one Freddy Krueger richer. As part of Funko's "Pop!" vinyl figure collection, Freddy has joined the likes of Gizmo, Beetlejuice and even a flying monkey from Oz. I love what...
8 tags
Ancient Rome Was Awesome, Reason #1.
The lifestyle of ancient Romans is one of my biggest passions. For however long I continue Tumblr'ing, I will explain why, at a probable rate of once every six months. Reason #1: Garum. Garum was as good as ketchup to the Romans. They put it on everything. Romans were big on spicy dishes, and this sauce turned even the blandest piles of half-rotted meat into Tangfest 2020. And what was garum made...
6 tags
6 tags
7 tags
6 tags
3 tags
Things nobody will care about...
…except me, and even I'm tentative. I've gone on and on about this office cleanout, to the point where some may be wondering why cleaning a room is such a big deal. All I can say is that when a mess grows to such incredible volume that you literally lock the door and pretend the offending room doesn't exist for around six goddamned years, yes, it's a pretty big deal to reclaim some semblance of...
7 tags
Cindy James books. What?
A long while back, I posted a tribute to some of my favorite segments in Unsolved Mystery history. This included the story of Cindy James, a troubled Canadian woman who died in what authorities said was suicide, but her family swears was murder. For years, Cindy reported harassing and sometimes violent incidents, including everything from dead cats left by her door to knife attacks up her...
8 tags
Gillman + Pitch Black =
Told you it was in my trunk. You're my excuse to finally drag it out. When we went to that horror convention last September, my absolute favorite part was the dealer room, where dozens of vendors competed for my money with a slew of gory action figures, bootleg DVDs and crazy contact lenses. (Yes, this was where MM's red eyes were discovered.) This…THING…which has sat in my trunk since then, was...
5 tags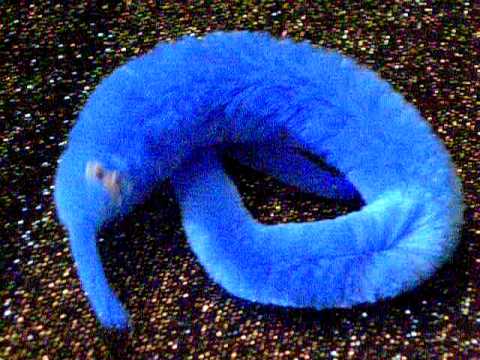 5 tags
6 tags
8 tags
Melmac.
"Disappointment to a noble soul is what cold water is to burning metal; it strengthens, tempers, intensifies, but never destroys it." - Eliza Tabor
6 tags
Alien Brain Fruit.
Thank you, Google. This was driving me nuts. A few weeks ago, we came across a tree that had lost all its leaves, but was still clinging to dozens of huge, strange fruits that looked like crosses between misshapen corncobs and alien brains. Many of them were scattered around the ground, picked to death by squirrels. This wasn't the first time I'd seen them. Actually, in my youth, the running...
4 tags
Ghoulies Hand Puppet?
Another wonderful find from the office cleanup. (We're so close to being finished. Almost time for paint swatches.) It's a Ghoulies promotional hand puppet, featuring that same toilet monster I mentioned two days ago. I can guarantee you that the previous sentence had never been written before, by anyone, in the history of the entire universe. I've found so many interesting...
6 tags
4 tags
Littleface.
Dick Tracy is one of my favorite movies. I know I'm in the minority on this. I still glisten when I remember that awesome summer of 1990, when Dick Tracy and Gremlins 2 were in theaters simultaneously. (One of the hardest decisions of my life was deciding which to see first. Pretty sure Tracy won.) Good guys are boring. This movie was all about its villains. Staying true to the comic...
6 tags
4 tags
9 tags
Paper Seinfelds on Parade.
Even as a natural packrat, it takes something really special to make me hold onto empty boxes of Kellogg's Low Fat Granola from 1992. Cardboard cutout Seinfeld figures? Yes, this is special. I'm used to cereal promotions catering to the pre-tween set. Were kids really that into Seinfeld, or did Kellogg's actually expect adults to go through with this? The proof is in the brand: No kid would ever...